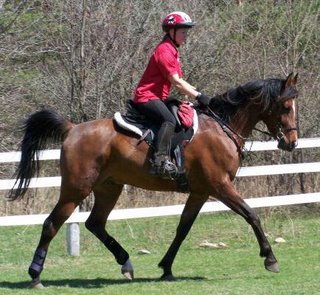 Name: Wendy Benns
Weight Division: FEI (when not riding FEI, I am a featherweight)
Home: Sunderland, Ontario, Canada
How many hours away from Biltmore? When will you arrive? 15 hrs I plan to
arrive on Tuesday
Help us identify you: Bay gelding, star strip and snip, left hind white to fetlock
I will be wearing a red shirt and red black & white helmet.
Background info:
How many 100's have you done? 14 (3 were Pan-Ams on my mare "Flirt with
Ecstacy" who has been off on maternity leave!)
Total Mileage: Just over 4000. (Includes CTR mileage )
Why do the 100? My favorite distance. I love the planning, pacing.
management and strategy required to ride 100 milers. I find 50's too
rushed!!
Your background with horses.
I have been riding since I was 8 years old. All I ever wanted was a pony and
all I ever talked about, read about or watched on TV was horses. On my 1st
pony I moved up through the levels of Pony Club competing in gymkhana, show
jumping, foxhunting, hunter and dressage shows. With my 1st horse I moved
into the Eventing world and was extremely successful in Ontario for Pony
Club horse trials and show jumping up to the 3'3" level. I began eventing
horses for their owners and was named to the Young Riders 3-day team to
compete in the Championships. At a training clinic with Lucinda Green my top
event horse "Top Brass" had a horrible career ending crash which made me
reconsider my choice of equestrian sport for the welfare of the horse. I
felt terrible for what had happened to "Topper" (back injury) and decided to
give thoroughbred racing a try! After one year of breaking, training and
galloping I was feeling even worse for the young horses I was race riding
and felt there had to be a more natural and humane, but challenging
equestrian sport for me. I found my sport in Endurance.
Profession: Animal Control Officer
Horse's name: (possibly explain how he got that name if it's relevent)
Supreme Justice
Owner: Wendy Benns
Age: 8 yrs
Breed: Egyptian Arabian
Sex: gelding
Height 15.3hh
Weight 1000 lbs
Type shoes:Light steel shoe, front pads. 2 1/2 weeks old on ride day.
Shoe or easyboot size: Shoe 0 Easyboot 1
Miles 850 total, 19 rides total, Interesting to note: 12 of those rides
were CTR's and only 7 were Endurance,
Years competing: 4
Type of saddle: Reactor Panel
Type Pad Equipedic
Bridle/bit/hackamore? Myler bit (hackamore/bit combo)
Crupper or breastcollar? no
Protective boots? hind
Type girth: Reactor Panel!
Will you be riding with a heart monitor? Absolutely always
What is this horse like? Supreme Justice or "Jay" as he is better known has finally mellowed a bit the last 2 years. He always thinks he should be going faster. I purchased him from LindaTownsend (Quebec) as an unbroken 4 yr old. I started him myself and have done extensive classical dressage work with him. I really don't enjoy riding any horse that doesn't have the basics done on moving in proper balance, responsiveness or softness; regardless of what sport I'm competing in. Jay has had several years of slow CTR's to calmly introduce
him to the sport before he seriously started his Endurance career. He is a really enthusiastic and sensitive horse to ride and needs a calm quiet rider, but on the ground he is a doll. He is very good at vet checks and seems to really like his job!
Goal: To earn his COC.
I LOVE this ride. It's my absolute favorite 100 miler. The trail, scenery
and setting is unmatched! I've done the 100 twice here.
If you want, explain your electrolyting proceedure...brand, frequency.
Perform N' Win. If really hot and humid I could be dosing up to an ounce
a mile. I dose small amounts often. I carry it premixed with me and dose
every time my horse drinks.
What do you feed? High fat, high fibre pelleted ration and beet pulp.
What will you be feeding at the vet check? Grass, soaked hay, carrots,
apples, sloppy beet pulp with high fat high fibre pellets or maybe what
the horse next to him is eating!!