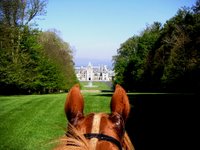 1. Alison Bailey riding K-Zar Emmanuel
2. Troy Ball riding WMA Rattler
3.
Wendy Benns riding Supreme Justice (FEI)

4. Abby Bozard riding Hassan
5. Claude Brewer riding Sahbadi
6. Marion Brewer riding That Boy
7. Beverly Brock riding Jayel Super
8. Jonie Brucker riding Indian Halo
9.
Kathy Brunjes riding Theatric (FEI)
10.Joni Buttram riding Cash Bonus
11. Roxanne Ciccone riding FM Spirit Wind
12.
Sandra Conner riding Elegant Pride (FEI)

13. Vicki Crance riding Naibara Grand
14. Lisa Delp riding Sonata Al Deus
15. Adri Dinkelmann riding Mustapha
16. Kara Disbrow riding Veinte Corona
17.
Ruth Anne Everett riding Royel-T Razzmatazz (FEI)

18. Mary Farris riding Mojo
19.
Tom Gower riding JG Bandy (FEI)

20. Shana Hall riding Jamal Tali
21. Sharon Hinshaw riding Dio Renegade
22. Norma House riding ?
23.
Kristen Howard riding Quicksilver Destiny (FEI)
24.
Julie Jackson riding Nitro (FEI)

25.
Jesse Jarrett riding Be Dazzzled (FEI)
26. Susan Kain riding Excaliber
27.
Valerie Kanavy riding ?? (FEI)

28. Lynn Kenelly riding Reminisonce +/
29. Susan LaBrush riding Skye's Kahlil
30. Debra LaComette riding Copperhill Playboy
31. Doug Lietzke riding Sham Felek Iman
32.
Wendy MacCoubrey riding Mariah (FEI)
33. Lois McAfee riding ?
34. Angie McGhee riding Gunner McGhee
35. Josie McGhee riding Jets Irish Rose
36.
Danielle McGunigal riding ? (FEI)
37. Nicki Meuten riding Fury
38. David Owens riding Tweetie Man
39. Leigh Ann Pauley riding Blizzard Bey
40.
Jennifer Poling riding WP Front and Sinter (FEI)

41. Pete Ricci riding Mossimoe
42. Jody Rogers-Buttram riding Petit Jets Aries
43. Jennifer Sapira riding RClaim Tu Fame
44. Debbie Schultz riding TK Notablymishaah
45.
Lisa Sendecky riding Inconclusive (FEI)
46. Lori Shifflett riding Dazed and Amazed
47. Paul Sidio riding KMA Chazz Piper
48.
Meg Sleeper riding Tyrocco Troilus (FEI)
49.
Vicki Stanislawski riding Muhulisfire (FEI)

50. Pattie Stedman riding Breezewood Nevarre
51. Vickie Stine riding Commanche Warwind
52.
Ruth Sturley riding RBF Super Sport (FEI)

53.
Rita Swift riding Midnight Revelation (FEI)

54. tbd on Kruzan Missle
55.
tbd on ?
56. Kara Thomas on Teese
57.
Cheryl Van Deusen on DA Al Capone (FEI)
58.
Yvette Vinton on Faras Fali (FEI)