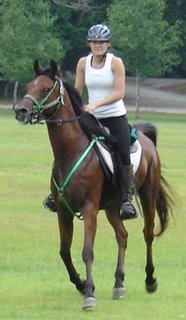 Name: Adri Dinkelmann
Weight Division: Light weight
Home: HOTlanta. Atlanta, GA
We are about 4 hours from Biltmore. I will leave May 3rd, the Thursday. Unlike my dad, who would like to leave this afternoon.

I ride with neon green biothane bridle set. I might have to get a new set, since my dad lost half my gear at the FITS 100 mi.
I would like to tell you what I wear, but I change shirts with every loop in a 100mi. It's a mental thing I guess, helps me stay fresh and clean.

Background: Born and raised in South Africa. Have been doing endurance since I was 6 years old, and have always been around horses. Did my first 100 mi at age 9. I Have done 5 100 mi in the States, over 12 in South Africa. I have 2735 competition miles in the States.

I do the 100 cause it is a greater challange. I have done plenty of 50's and always will. But the 100 mi is more mental.
Profession: Manager at a Marble and Granite fabrication shop. I design kitchens and bathrooms all day long.

Horse name: Registered name -Lucius. His stable name- Mustapha, and race name - Reddog
I am the proud owner of this Bay 11 year old Arab.
His sire. ZT Ali Baba
Gelding, thank goodness. 15.1
Size 1 foot.
Competing for 5 years now.
I use a South African saddle, with my neon green breastcollar always.
Yes, I will be riding with a heart monitor. Thank you Stagg.
This horse has a lot of heart. He is hard to handle, but I love him for it.
I am riding a nice easy pace. Actually we are taking two horses up to Biltmore to do the 100 mi, so we will take it nice and easy. It's the only way on that trail
And I don't change anything during a ride. He will eat what he is use too, and some extra back up stuff if he wants more to choose from.