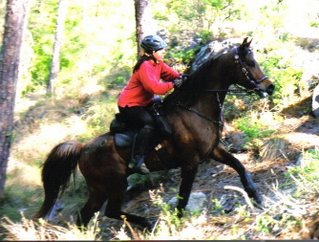 Name:Roxanne Ciccone
Weight Division: FW
Home: Micanopy,FL.
10 hour drive to Biltmore, I will arrive on Thursday.
Black and Purple biothane tack,horse is bay with white star and 2 white socks on the diiagonals
I will probably wear purple also my favorite color, depends on weather.
I have started 17 100's and completed 11. I have about 9000 endurance miles.
My friend Susan Kain wanted company trying to complete the Biltmore 100, so being the good friend I am (ha ha) Seriously the 100 is the ultimate challenge and it gives you a chance to really bond and appreciate these wonderful horses that give it all, so we can keep ourselves out of trouble.
Profession: Registered Nurse in the Operating Room, Circulator and Scrub for 23+ years.
Horse: FM Spirit Wind
Owner: Self and if anything happens to me he goes back to Full Moon Arabians, his breeders Beth and Tom Vedder.
Bloodlines Polish/Domestic Bey Shah grandson, lines to Bask and Kaiyoum
Age: 13
Breed:Arab
Sex: Gelding
Height: 14.2
Weight: 985
I use steel shoes with clips and plastic pads at rocky rides. Mostly ride barefoot in Florida or just front shoes.
Spirit has been competing for 9 years and I have for 15.
I will use my Big Horn Endurance saddle and my Courbette Dressage saddle.
Equipedic Pad
Pelham Bit with double reins.
Crupper and Breastcollar
fleece girth
Heart Monitor and GPS and flask.
Spirit started his career in the halter classes and was Reserve High Point Yearling Colt 1995 in Florida. But he is not just another pretty face, my new nickname for him is cement truck.
He is very very tough and very pushy, he finally has decided to let me be boss at least half the time. He flies down the trail and I am always trying to slow him down. He is excellent in the Dressage ring and also competes at Fun Shows, Hunter Pace, Fox Hunting and Team Penning.
My goals for this 100 are to finish and have fun with my friend Susan and hopefully she won't whine too much and we can finish somewhere in the middle of the pack. Spirit has finished this course once before and I have 2 times.
I use my own mix of electrolytes and usually dose before ride and at each vet check, if a long loop will dose on trail.
Feed is Seminole Perfect Ten sweet feed, also beet pulp, whole flax seed, carrots, and any hay that he wants. He loves Peanut.
He can have anything he wants at check, its usually not what I have.
photo credit: Becky Siler