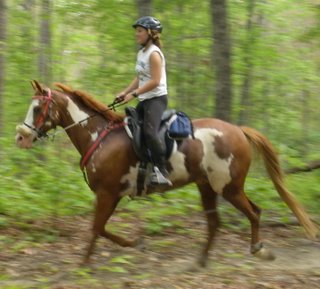 Name: Josie Shannon McGhee
Weight Division: FW
Home: Wildwood, GA near Chattanooga, TN (5 hrs. from Biltmore)

Background info: 17 years old, high school junior, 3rd in her class, plays 3 sports: Volleyball (voted all district) Basketball (team captain) and softball.

How many 100's have you done? 0
Total Mileage: 1325

Your background with horses. Mom sat me on a pony when she brought me home from the hospital at 3 days old. The old pony was in the front yard, so she put my leg across her so I could say that was my first ride. She managed a 25/50/100 mile endurance ride with me in the truck at 10 days old. Dad had to tote me to the vet checks when she started back competing. I was riding by myself at age 2, did Pony Club at age 5, my first endurance ride (50) at age 10...I've never done an LD. I really love dressage...I'm extremely eager to learn it and I take lessons as much as I can...but the price of it is quite limiting! My horse now is TM Cade. I bought him (with my own money...that way no one can use the "who's money was it" stuff on me!) as a "halter broke but still doesn't understand the 'pull means walk forward' concept" 4-yo and trained him myself (I was so stingy with him that I didn't let mom even sit on him for a year. When I was ready to do his first ride and found myself so busy with school I couldn't condition him enough...I gave in.) This is only his second season and he just has 250 miles, so he's not ready for a 100, but that's my goal. I'm just glad Jody's providing me with a horse to ride for Biltmore so I can finally do this long-anticipated first 100!!
Profession: Student...cave guide during the summer
Horse's name: Jets Irish Rose
Owner: Jody Buttram
Age: 11
Breed: 1/2 Arabian and 1/2 Paint
Bloodlines: Very solid CMK breeding on the Arab side.
Sex: Mare
Height 15hh
Weight 950
Type shoes: pads? clips? How old will the shoes be on the ride day?: St. Croix Eventer with clips, full Luwex pads packed with Equipak firm on all four feet. Shoes will have been on about 4 days.
Shoe or easyboot size: 0's on the front, 00's on the rear

Miles 2715 career miles
Years competing: 6
Type of saddle: Orthoflex
Type Pad: booties
Bridle/bit/hackamore? Hackmore
Crupper or breastcollar? Both
Type girth: Wool fleece dressage girth
Will you be riding with a heart monitor? Yes
Background info: Jody purchased her from the man that owned the Petit Jet stallion for many years until the horse died at the age of 30. She was from a neighbor that bought a Jet mare to raise 1/2 arab/paint crosses. They found that they couldn't sell the horses, and sold her to the breeder. Jody went to look at another Jet horse he had, and saw her and fell in love with the spots. Bought her at 2 yrs. old, started her and she began in endurance as a 5 yr. old.
What is this horse like?: Well...I will only have ridden the horse once before the ride...but according to Jody she is very strong and dependable. Always gets the job done. She says she is really a mean horse, can't be trusted, but you have to like her for what she can do (is this at all reassuring?). Extremely pretty, has great legs and build. Not the best hot weather horse because of cooling issues, but can and has competed in very hot/humid conditions. Great on hill rides and technical trails, makes up on the trail easily any time lost in VC's due to slower recoveries.
Goal for the ride: Completion
Possible top 10? No
First completion? No
.
Possible time frame? No clue. I'll be riding with my mom(Angie), and with it being Gunner's first 100 there's really no telling.
Have you completed this course before? Rose has...I've only done the 50.
If you want, explain your electrolyting proceedure...brand, frequency: She gets Lyte Nows, and will also get BCAA's at VCs (That's Jody's electrolyting procedure)
What do you feed? Rose is fed Omelene 100, beet pulp. Turned out on grass at home, with Coasta Burmuda hay, feed choice salt and minerals, Vitamin E/Selenium supplements and MSM. Legend injection the week of a ride.
What will you be feeding at the vet check? Dumoor Horse cookies, carrots, Apples, raisins, grain, grass, grass hay and Alafalfa hay, beet pulp mixed with warm water and anything else she will eat.
photo credit: Jody Buttram