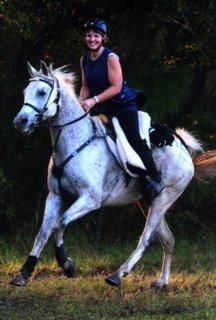 Name: Angie Creswell McGhee
Weight Division: LW
Home: Wildwood, GA just outside Chattanooga, TN
Background info: Married to Bill 25 years this May, two daughters, Bonnie 20 and Josie 17.
Why do a 100? Because they scare me. Also, I think the 100 is a way for the cautious non-risk takers to excell.
How many 100's have you done? Started 11, finished 8.
Total Mileage: 4830 (AERC page doesn't show Pan Am 100)

Your background with horses. One of 6 children, only one with the horsey bug. Got first pony at age 10. Bareback neighborhood terror. Parents didn't keep up with me much so long as I made it home for the head count at night so I got to have some pretty extreme adventures for a kid (like figuring out how to get my horse off a ledge he couldn't turn around on) First Appaloosa at age 15. Barrelracing, brush track, trail riding. First endurance ride at age 27.
Profession: High School Art Teacher, Writer, Free lance artist, cartoonist, speaker, video editor, chair caner, author, dog breeder, if I can make honest money at it, you name it and I'll try it. Gotta support my habit!
Horse's name: Gunner McGhee. When I bought him he was covered with scars and bite marks from sharing a field with a stud, so since he looked like he'd been through a war, "Gunner" came to mind.
Owner: Me
Age: 12?
Breed: Looks like an Arab, trots like an Arab, endures like an Arab, but that's all the proof I've got.
Bloodlines if you're in to that: One of those "Out of Alabama by Truckee" supposedly was bought through an auction, then went through 3 more owners before I got him Feb. of 06.
Sex: Gelding
Height 14.3
Weight 844 lbs.
Type shoes: He's pretty basic. No clips, no pads. They'll be on 2 1/2 weeks before the ride.
Shoe or easyboot size: Front Easyboot size 1.
Miles 450
Years competing: 1
Type of saddle: Old 1990 Ortho-flex Express, EZ ride stirrups with cages.
Type Pad: Toklat wool
Bridle/bit/hackamore? Biothane halter bridle, nylon reins, full cheek snaffle & running martingale. Might switch to a hackamore really late in the ride just to get the bit out of his mouth but he dislikes leverage, it makes him toss his head.
Crupper or breastcollar, boots? Biothane breastcollar and Ortho-Flex crupper.
Type girth: Mohair with pads under the buckles.
Will you be riding with a heart monitor? Not unless I buy one very soon, but I would like to ride him with one at least for a while.
What is this horse like? He's tough. He spent last 7 or 8 years being ridden on long hard trail rides with some folks in Alabama who just go trail ride hard. They didn't like him much because he wouldn't get tired and stayed ahead of the crowd. He had also been in small horse shows in trail classes so did the taking on and off raincoats & crossing little bridges, etc. He's just not surprised by much. He reminds me of a jeep, nothing fancy but *rugged*. They told me he wanted to go too far too fast and that sounded good to me.
I will be riding with my daughter who will be riding an experienced 100 mile horse, Jets Irish Rose. It will be my daughter's 1st 100 so we've got lots of variables going. Hopefully I'll mentor Josie, and Rose will mentor Gunner. Rose will need to take it easy during the heat of the day since she's a fairly strong built Paint 1/2 Arab, but she's known for really coming on strong in the evening and I hope will inspire Gunner, assuming we're both still in it at that point.

Goal for the ride. To get his first 100.
I have finished the 100 here 4 out of 4 times that I've entered.
Electrolyting proceedure...brand, frequency. One dose before I start, and maybe every 12-15 miles or so (depends on weather). I use home made and mix with yogurt.
What do you feed? 10 % protein 6% fat Legends 10 sweet feed and all the Tifton 44 Coastal Bermuda he'll eat. He gets a little alfalfa now and then just so he'll be used to it at a ride.
What will you be feeding at the vet check? Beet pulp mixed with grain (which he'll pick the grain out of) Alfalfa, Coastal, grass, carrots & apples . (all of which he'll eat)

Photo credit: Becky Siler