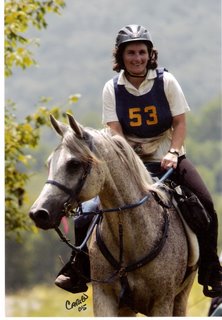 Lisa Delp
Weight Division: LW
Home: Westminster, MD
How many hours away from Biltmore? When will you arrive? 8 or 9 hours Thursday afternoon May 3rd

Help us identify you: Zilco colors are navy blue, Horse color is gray.

How many 100's have you done? We have just done 1 one day hundred and 1 three day hundred

Total Mileage: I have about 1300 AERC miles and over 2000 ECTRA competitive miles.

Why do the 100? Doing 100's has always been my goal. I have always wanted to do the Biltmore 100 and after many miles with Fancy I feel like this is the year to try.

Horse's name: Sonata Al Deus (Fancy)
Age:13
Breed: Arabian
Bloodlines:Egyptian/Russian
Sex: Mare
Height:15.1
Weight 1100

Type shoes: St Croixs with clips. She will be shod about 11 days before the ride.

Shoe or easyboot size: 0
Miles: Fancy has 920
AERC miles and has also competed in competitive trail with a combined total of about 1400 miles. Years competing: This is Fancys 4th year competing

Type of saddle:Wintec pro endurance saddle w/ cair
Type Pad: Toklat woolback
Bridle/bit/hackamore? Pelham bit
Crupper or breastcollar? Breast collar
Type girth: Pro choice

Will you be riding with a heart monitor? no

Background info: I got my first horse when I was 9. I started showing in backyard shows when I was about 14 and then worked my way up to training and showing at a regional and national level with Arabians. I moved to Maryland after I got married and started galloping steeplechase horses, lots of fun but decided to start a family so took a few years off. I had always wanted to do endurance riding, so when my daughter started school I started to pursue a goal that I had as a teenager. I was very lucky to be given an amazing horse that my husband found by chance and that is Fancy. I cannot imagine ever riding another horse that I am so connected with. She is great to ride most the time, serious about her job when she does it and she takes very good care of herself. She will get a little crazy if there are a lot of horses running past her in a ride. She can be too competitive.

Goal for the ride. I have never ridden here before and my goal is just to complete this ride.

The electrolytes I use are Acculites and Perform and Win. I dose about every 10 to 15 miles depending on the weather and how the ride is going.

I feed Equitek 10/10 and beet pulp at home and 3 kinds of hay. Fancy likes to have choices! At the ride Fancy wants anything I did not bring so I pretend we are stealing food from other horses by bringing something yummy that she doesn't get at home all the time.
photo credit: Carien Schippers