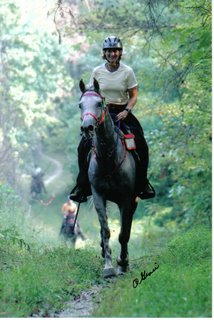 Lynn Kenelly
Lightweight(most days)
Anderson, SC---about a 2 hour drive to the Biltmore, in the northwest
corner of the state.

Background info: I grew up riding NATRC as a kid, moved to Clemson for college and met Faith Connelly, got my first horse from her when I was 21 and tried some endurance, LOVED it, got married and stayed in the area with my own farm but my riding horses still live at Faith's because she is backed up to Clemson Univ property where we have 25 miles worth of trail ranging from flats for speed work to tight single track technical trails with some hills(No trailering to condition unless we want to). I have ridden endurance since 1996 and got serious in 2001. I have 3 children ages 10, 7, and 2 and an awesome husband that lets me go off while he keeps the kids and critters at home. God Bless Him!!

I have started 9 1-day 100s and finished 5
total mileage for me 2185, and my horse 2090 endurance miles, about 300 LD miles

Horse background: My parents could not afford to buy me a horse but I took lessons from the time I was 6, 2x a week, grew up at a hunter jumper lesson barn, the owner, Mildred Porter, rode NATRC and took along the kids that had the desire to do so. I had a good basic education but really learned the finer points of equitation and dressage from Faith Connelly when I met her in college in 1988. Now I breed a little, train other people's horses a little and compete my
horses.

Profession: Uhh--I am a kept woman(luckily enough) not wealthy by any means but I keep shoes on my riding horses and kids, too. Guess I am a professional horse lover and mom and wife.
How can we spot you in the Biltmore photos? I will be wearing my favorite cheetah panties that nobody will see, but I have never gotten rubbed from them so they are a critical piece of
apparel, Black tights and hopefully a bright neon yellow collared polo shirt unless the FEI people have a hissy fit, so my backup option will be a navy USA east shirt. And a Tipperary helmet in carbon gray.

Reminisonce+/ is my main ride, I bought him from Faith who bred him when he was 3 and did all the training/conditioning myself, he is a grey purebred Arabian gelding that will be 10 the end of May.

He is by Patrolon, a straight Russian(very similarly bred to the Asgard stallion *Statistic) and out of a pure polish *Naborr daughter. Patrolon stands at public stud and is Sweepstakes nominated if anybody out there is interested, he has several offspring doing quite well in endurance and show horses to boot. Offspring also for sale, some riding already and plenty of grow them up and train them yourself.

Reminisonce's+/ barn name is Sonny, he is 15.1 and weighs about 870 when he is fit, up to 930 when he is on the chubby just got off vacation size.
He got his name because he was the very last foal out of Jane Deere a great broodmare for Faith, you are supposed to look at him and Reminisonce(correct spelling was taken already) fondly about his dam, Jane Deere got her name because her dam died before she was weaned and she went running and hollering after the John Deere that hauled her mama off to her burial site hence the name Jane Deere.
How can we tell this gray Arab from the others? Sonny wears multi colored biothane, a turquoise and pink headstall, halter is purple, pink, orange, and yellow, breast collar is orange with purple overlay and I use purple split reins.

Sonny will be wearing Natural Balance lite steel shoes with their new perforated pad on the front and clips and a tiny trailer on the rear and my farrier will shoe him 10 days before Biltmore. He is a small 1 to large 0 shoe size.

Sonny has 2090 endurance miles, 165 LD miles, 5 1-day 100s under his belt, 2-3 day rides and 3-2 day rides. We were inducted into the SERA 100 mile club last year(3 100 mile completions in a year) with a 1st/BC, 2nd, and 3rd place finish and also were 5th for the AERC 100 mile award.

He started his career in 2001, record of 38 finishes 44 starts, 3-honest to goodness rider is puny pulls, 1 lameness pull(sore on a popped splint), 1 pull at 86 miles because the rider(me) didn't clean his back well enough after he rolled which made his back sore SF pull, and
1 RO-lame at 70 miles last year at Biltmore, still sound with 52/52 exit CRI but getting inflamed high up on the right front and a puffy pastern on the left rear, 30 more miles in the slop was not going to make that any better!!!

I use a cheap synthetic circle y western saddle, full quarter horse bars with the horn sawed off and DeSoto leather fenders with EZ ride stirrups. Wish I had a DeSoto but he has always had great back/withers scores except for the one rider error sore back.
Skito pad with a Dixie midnight under it
Sonny starts the ride with a double broken mouthpiece western curb type bit, if he is being nice(rating easily) at some point later in the ride he has a S-hack with biothane nose piece.
Biothane breast collar with matching add-on halter/bridle in multi bright colors with running martingale attachment, no crupper.
Girth: A neoprene roping girth, fat on the belly, narrow in the elbows.
Yes, I ride with a heart monitor.

Sonny is easy to rate and very responsive, he would like to run to the front but is mannerly when I say "no", he generally eats well and we bring a wide assortment of feed and hay and are always willing to share!!! He doesn't normally drink until about 25 miles in and then he drinks like a fish the rest of the day, he is happy to go alone or with company, he is very talkative and usually nickers and talks to the horses we catch but doesn't offer to slow down and stay with them, just greets them as we go by, he also has to watch the vet check area and make sure nothing needs his attention, he LOVES to watch other horses get in trouble for whatever reason, I think he is glad it is not him though he does get cussed sometimes. While he does make a lot
of chit chat it has never affected his recoveries so I have basically quit fussing at him for hollering, put it this way---he is the only gelding in a pasture of 12 or so that whinnies as they run and play in the pasture, his Mama was chatty, too---he must of gotten it from her.

Ride goals: To FINISH, maybe towards the front if the pace is not unreasonable but I always adjust my ride plan to Sonny and ride MY ride. Would love to do a 10 1/2 to 11 hour ride if all goes well and it is not muddy--then there would be a major pace reduction(Please let it be dry, pretty please). This will be our FEI debut if our passport is approved in a timely manner. We have finished the spring 50 and the fall 55, did not complete the 100 last year.

I make my own electrolytes with salt, potassium chloride, calcium and magnesium mixed according to what his blood test results have shown me, about every hour to hour and a 1/2 after the first loop, he gets a dose in the morning before we start and I do preload. After the
first loop I do dose on trail after a good drink as neccessary.

At home Sonny gets Southern States Senior feed that is beet pulp based and Legends 12 sweet feed, in addition he get soaked beet pulp before the ride along with his daily supplements---MSM(discontinued on Tuesday before a Saturday ride) 6500 mg Glucosamine a day, Vit E, flax
seed, yeast and B-1.

Vet checks: We offer Omolene 200, the senior feed we use, cheap sweet feed, plain oats, dry COB, soaked beet pulp, carrots/apples but if he wants what your horse has I will gladly switch with you---try to have a many hays as possible: alfalfa, oat, coastal, timothy, peanut, chopped hay and a mixed grass, once again---we will share if you
do:-)) and even if you don't.
photo credit: Genie Stewart Spears