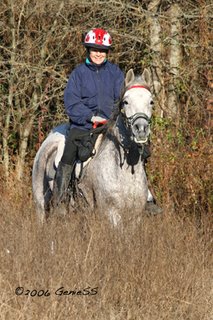 Name: Kristen Howard
Horse: Quicksilver Destiny
Owner: Ruth Sturley (this is her alternate horse)

"Quicksilver Destiny" an 11 year old Egyptian Arabian. He is being ridden by a fellow Canadian Kristen Howard" She will be travelling down from Canada with her crew to compete at the Biltmore. This will be Kristens first 100 outside of Canada.

Quicksilver completed his first 100 mile F.E.I course at the Fun in the Sun in Florida this March. He was sucessful in obtaining his C.O.C. with an hour to spare. He is an easy horse to work around & ride but really gets into his competitive mode when racing. Quicksilver and Sport (Ruth's horse) will be doing the course together. I hope to secure a place for Silver on the Canadian Team this year.