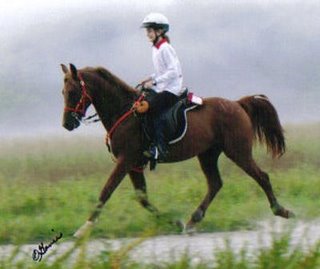 Name: Joni Buttram
Weight Division: Junior
Home: Hillsboro, Alabama

Background info: Student at East Lawrence Middle School--7th grade, honor student and member of BETA club. 7 year pianist

How many 100's have you done? Started 9 and finished 6 to date.
Total Mileage: 3375 miles

Your background with horses. Been riding since 1 yr old (my pony named Cookie). Attends horsemanship camp each summer where lessons are on equitation and jumping.
Profession: Being a good kid

Horse's name: Cash Bonus
Owner: Joni and Jody Buttram
Age: 9
Breed: 1/2 Arabian and 1/2 TWH
Bloodlines : Polish breeding on Arab side.
Sex: Gelding
Height 14.1Weight 825

Type shoes: How old will the shoes be on the ride day? St. Croix Eventer with clips, full Luwex pads packed with Equipak firm on all four feet. Shoes will have been on about 4 days.

Shoe or easyboot size: 0's on the front, 00's on the rear
Miles 810 career miles
Years competing: 2

Type of saddle: Orthoflex or a wintec all purpose with Cair panels
Type Pad None, only booties on the Orthoflex, and a closed cell insert in a fleece pad with the wintec.
Bridle/bit/hackamore? Short shank, mullen mouth pelham with running martingale.
Crupper or breastcollar? Both
Type girth: Real Wool Fleece tube over english girth.

Will you be riding with a heart monitor? Yes

Background info: Cash was a rescue horse, paid $150 for him, he was still a stallion, unbroke and never had his feet picked up. He was purchased on April 10th, 2005, he did his first ride that Sept. placed 12th in a 50, 4 weeks later did back to back 50's at a pioneer ride, and 3 weeks after that did his first 100 placing 5th overall. Since then he has completed the OD 100 placing 10th, and the NC 100 on the OD trail. He has only been ridden by a junior.

What is this horse like? A monster. NOT a kid horse, but a superior athlete. Huge ground covering gaits, good recoveries and NEVER been tired at a ride. Literally drags you during final trot outs.

Goal for the ride: Completion
First completion? No
Possible time frame? ?

Have you completed this course before? Yes

Explain your electrolyting proceedure...brand, frequency. He will get Lyte Nows, and will also get BCAA's at VCs.

What do you feed? Omelene 100, beet pulp. Turn out on grass at home, with Coasta Burmuda hay, feed choice salt and minerals, Vitamin E/Selenium supplements and MSM. Legend injection the week of a ride.

What will you be feeding at the vet check? Dumoor Horse cookies, carrots, Apples, raisins, grain, grass, grass hay and Alafalfa hay, beet pulp mixed with warm water and anything else he will eat.
photo credit: Genie Stewart Spears