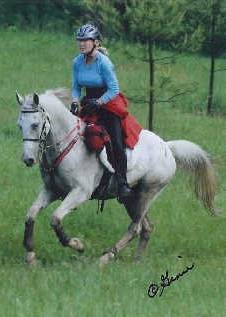 Name: Troy Ball
Weight Division: Lightweight
Home: Asheville, North Carolina
History: I have been riding horses most of my life and have a history of showing hunters, jumpers, dressage, reining, cutting, and even side saddle. In2003 I won the triple crown in the Arabian show world; The Canadian NationalChampionship, the US National Championship and Scottsdale, riding a Show Hack half Arabian. I have over the past ten years bred and raised both Quarter Horses for reining, and Arabians for the show world. I have had the very good fortune to train with Robert Rust, a multi world champion cutting horse trainer and Erika Burmeister, the Hunter trainer of the year in AHA in'04. After moving from Austin to Asheville, I met Stagg Newman and he quickly became my mentor and friend. Offering his Hall of Fame horse, Drubin, as a tutor, I began to learn about and genuinely admire the endurance world. With Stagg's direction I planned my first year of rides, challenging myself in a new way at each event. I also purchased my first endurance horse, WMA Rattler, who I call Willie. His conditioning allowed me to challenge myself from my first ride at Biltmore in 2006. Although I started at the end ofthe field in the 50, we finished in the top ten in our weight division.
Our second ride was the Moonlight in Vermont ride, where we finished 2nd in the fifty and rode for the first time at night. Summering in New Brunswick, Canada, allowed me to learn to train alone, for the first time ever.
This sport like no other has challenged me to learn many new things, both about my horses and about myself. I went to the Hot Toddy 50 on my birthday in August, finishing second once again, and won my first BC. My goal for the summer of '06 was to ride my first hundred at the Northwind Challenge Canadian National Championships in Quebec.
With Stagg's continued support, and the help or advice of many others including Dr. Jeannie Waldron, Dr. Ann Stuart, Jeff Pauley, Cheryl Newman, Roy Drennan, Dr. Rob Arnet, and Atlantic Canada team member Bob Gielen, I completed, finishing in sixth place, and was the first Canadian team member to finish, assisting in winning the gold medal for the Atlantic Canada Team. Willie finished the ride in remarkably good form, considering his rider's inexperience with 100's, finishing with the third highest vet score. Willie continues to be more fit than I am, recently winning BC at Sandhills in a 55. I purchased Chlosta Moondanse from Kathryn Downs in the fall of '06 and have been putting him back to work alongside Willie. They are a well matched training pair and I'm growing in both knowledge and feel, riding more than one horse. Despite my newness to the sport I'm very motivated to meet my personal goals and do what I can to assist others in their endurance careers.
I'm proud to be a founding board member of APEX, A Partnership in Endurance Excellence, an organization dedicated to "Partnering in training and academic advancement to achieve the highest performance levels for endurance horses, riders, and teams." With the combined knowledge of John Crandell III, StaggNewman, Dr. Ann Stuart, Jeff Pauley, Dinah Rojak, Cheryl Newman, Ann Ayala and the participation of many equine industry leaders, we plan to offer critical support and education.
photo credit Genie Stewart Spears