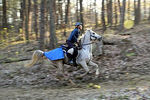 Name: Julie Jackson
Weight Division: FW
Home:Geneseo, IL
How many hours away from Biltmore? 12-13 hours. I will leave about 4:00AM Thursday and hopefully be there about 6:30PM

Help us identify you: I am riding a small flea bitten grey Arabian gelding (surprise!). He has a navy/white overlay biothane bridle and breast collar. I use a blue rump rug and vet card packet. I ride in a black Orthoflex Endurance cutback. We use splint boots (black or white) and ankle boots (black).I wear a dark grey low profile helmet and my hair is usually sticking out attractively in all directions.

Background info: I've been riding all of my life - did my first LD ride about 7 years ago in Texas. Had to get divorced before I could really commit enough time to it, and am now thoroughly addicted. I have competed about 2600 miles in LD and Endurance combined and use Competitive Trail to start young horses. I have all Arabians at this time and Nitro is my second (and best) endurance horse and I have two coming along that are getting ready to start their first 50's. Then there are the three and four year olds.....>

How many 100's have you done? I have done three "one day" and two "two day" 100's, all on Nitro. My toughest one was the Wildcat 100 which we completed in 2006 BY OUR SELVES (it was very hot and everyone else bailed). It was a great experience. This will be my first FEI ride.

Total Mileage: 2600
Why do the 100?: I guess it is an ultimate test of partnership, trust and strength for me and my horse. I love the time on the trail together and I am constantly amazed at what he will do - what we can do together. I always said I was not interested in 100's but, here I am.

Your background with horses: I begged for a horse until my Dad wore down when I was 12. We had 5 by the time I was 13. My 13th birthday present was a 6 mo. old, wild, 1/2 Arab colt. I trained him and it just cemented my love for Arabs. I did some barrel racing and western pleasure as a teenager. Arabians have always been my first love, along with riding the trails.

Profession: VP Operations - Heavy Equipment Manufacturing

Horse's name: Nitro.
How did he get that name? Have you ever seen a bronc come out of the chute? Well, that was Nitro the first time I got on him when I went to look at him. The next 4 times were about the same. Hence, Nitro. he was 6 when I got him and had obviously been mis handled terribly. I started over and it took 4 months of just taking him where ever I went, conditioning my other horse (ponying Nitro). I spent hours and hours just gaining his trust.

Owner: me
Age: 12
Breed: Arabian
Bloodlines: unknown - he came from a racing stable without papers
Sex: Gelding
Height: 14.2
Weight: 875

Type shoes: Lateral clips in the back. He will be re-set on 5/2 to ensure a tight shoe. No pads, Nitro has good feet.
Shoe or easyboot size: 00
Miles: 1800
Years competing: 5
Type of saddle: Orthoflex
Type Pad: wool booties
Kimberwicke bit, Breastcollar, splint and ankle boots
Type girth: Orthoflex urethane and leather

Will you be riding with a heart monitor? yes
What is this horse like? Nitro is a very sensitive horse and prone to anxiety trailering, in hand, etc. Perfect manners but always on guard. Under saddle though he is one of the most confident horses I have ever ridden. He trusts me and will do anything I ask unless he is convinced it is too dangerous. He is competitive but controllable. Does not get too concerned with his place in the ride (front, behind) but is an excellent lead horse. He has a huge trot for his size (9-10MPH) but his favorite speed is all out. As I said, he was unridable when I got him. My friends bet me money I would never ride him. A few months after I bought him, the previous owners called to ask if I had him put down. I was proud to send them a picture of Nitro in his 1st LD at Spook Run. Nitro has finished in the top 5 of every endurance ride he has completed 31`out of 34 rides and has 5 BC's. The last 3 years he has won a regional top ten placing, last year 4th overall in the MW.

Goal for the ride. I have never ridden the Biltmore. I want to complete at a pace that is consistent with his conditioning.

If you want, explain your electrolyting proceedure...brand, frequency. I electrolyte about every 1.5 hours.
What do you feed? 50% beet pulp and 50% 12% sweet feed.
What will you be feeding at the vet check? What ever he will eat. I hand feed him carrots and he will go thru 10-20 pounds in 100 mile competition. He likes slurries. He also loves applesauce and especially other peoples hay.